Governing Board
Overview
A nine-member Governing Board, appointed by the Governor and confirmed by the Florida Senate, oversees District activities by setting policy and administrating the District's budget, as set forth in section 373.073, Florida Statutes.
Board members serve four-year terms without compensation and may be reappointed. The Florida Senate must confirm all appointments to the water management district boards.
The Governing Board meets monthly at the District's Headquarters in Havana (unless otherwise noticed), and its meetings are open to the public. The Governing Board's meeting agendas and supporting documentation are posted to this website.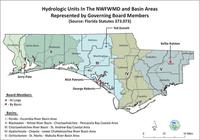 One Board member is appointed to represent each of the District's five major hydrologic basins and four are selected at-large.
Meet our Governing Board